The lil woman was out of town on busniess leaving me and the boys foraging for ourselves. Funny how when she leaves I get a list of a 100 do's and don'ts including when and where they need to be, reminders about showers, baths, brushing teeth and even what to and not to feed them. Well that got circular filed real quick.

Nothing beats red meat and fire when she's gone, so in her absence I decided to cook us up some steak and potatoes using my Weber OTG - a real manly-man's cook. Got these boneless choice inch and a half thick ribeyes from Costco. Prime was more than double the price, so these did just fine.

(Click on the photos for a close-up)
Had my little helper season them up real good. Used salt and pepper only. I was thinking of doing an espresso rub, but decided against it. Sometimes ya just gotta keep it simple.
During the winter it's not easy finding Royal Oak Lump, but I happened to score some at Menards on North Ave. I've started using lump a whole lot more lately and although it burns more quickly, nothing beats the taste. I built a two-zone fire for these bad boys cuz I knew they'd be dripping grease and flar'n up.
Now, because these were over an inch thick, I figured they'd need to cook a total of about 10-12 minutes for rare.
After they were finsihed and while resting, I decided to make a chimichurri sauce to go with the steaks -Yum! I processed up about a quarter cup of Flora sun dried tomatoes, 1 cup fresh parsley, 1/2 cup fresh cilantro, chili flakes, 3 cloves of garlic, Kosher salt and freshly cracked black pepper to taste and about 1/4 cup of some good quality EVOO.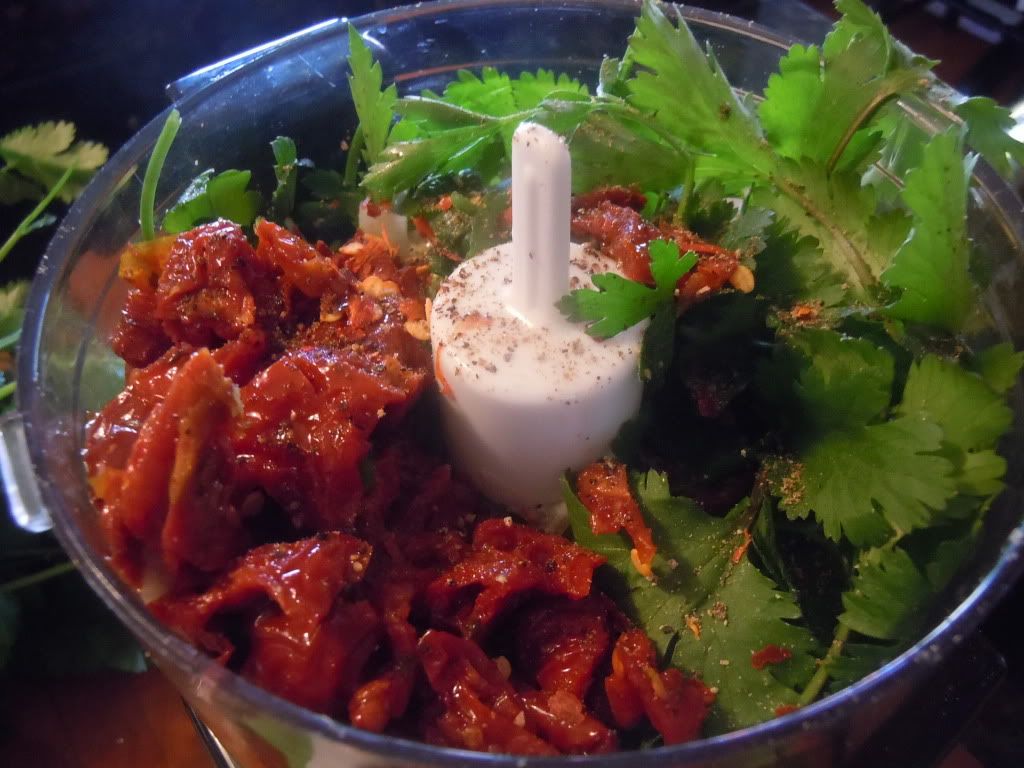 Nothing beats a good chimchurri sauce.
Earlier in the day, I had boiled some small golfball size potatoes til fork tender. I then smashed them under a pot to form little patties.
Smashing them allows for more of the spuds' surface area to come into contact with the grill, hence more char-grilled flavor. I seasoned them up with EVOO, Kosher salt and freshly ground black pepper. I threw these directly over the coals for about 5 minutes to char them up real nice.
Well, here's the entire meal plated. And of course I had to have a brew.
Simple, delicious and satisfying!
All in all I do feel a little guilty about throwing away the wife's list, afterall it did have some useful info on it. But the way I see it, the lil woman should be happy that at least we didn't dirty the kitchen. Being married is all about compromise and I'm the king of compromise!
Thanks for looking and happy Friday!